About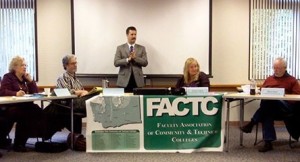 FACTC
FACTC is a statewide network charged with reflecting faculty perspective on critical instructional issues. As an organization, it maintains a neutral posture on political issues and concerns that are appropriately the province of professional negotiating faculty organizations.



Activities
Follow this link for a summary of FACTC participation in state-wide initiatives
Follow this link for  a summary of FACTC teaching and learning demonstrations
FACTC meets three times a year.
Meetings are held for two days (usually Thursday/Friday) at various member colleges. Discussions of major system issues and concerns are held and are summarized in the quarterly newsletters.
FACTC publishes a journal/monograph entitled FACTC Focus.
It addresses a key current theme relevant to faculty across the system and is published annually.
Are there issues you would like FACTC to address?
Is your campus not represented on FACTC? Help us get your campus involved!
Do you have suggestions for a FACTC Focus topic or a Tools for Teaching theme?

Goals
Addressing instructional issues that cross campus boundaries, aiming to improve teaching & learning in WA two-year colleges through system-wide sharing and collaborative problem-solving.
Enhancing communication among colleges and state organizations dealing with issues relevant to community & technical college faculty.
Monitoring and reporting on the activities of key decision-making and policy organizations in Washington State, including the State Board for Community & Technical Colleges (SBCTC), the Washington Student Achievement Council (WSAC), and the Washington State Legislature.
Improving the flow of information between faculty and various key two-year college system groups, including the presidents (WACTC), the trustees (TACTC), and the chief academic officers (Instruction Commission).